Collagen specialist, manufacturer of collagen-based dietary supplements
Collagen specialist
manufacturer of collagen-based dietary supplements
After reading the reviews, I was a little surprised that they were all good. Nevertheless, I bought it. I have been using it for 2 months now and I am really satisfied. My skin, hair and nails are better. I will continue to buy Collavita
I am very satisfied with the quality of Collavita's products. The usage is also comfortable. It suits me perfectly as an athlete. I want to protect my joints. Protect and I feel that my joints are stronger and more flexible
I was very happy with the results. I lost less hair and my hair also felt thicker. In addition, my nails became stronger, as well as my knees grinding less. The pain after my injury to my shoulder also disappeared quickly
Double action ven collagen Collavita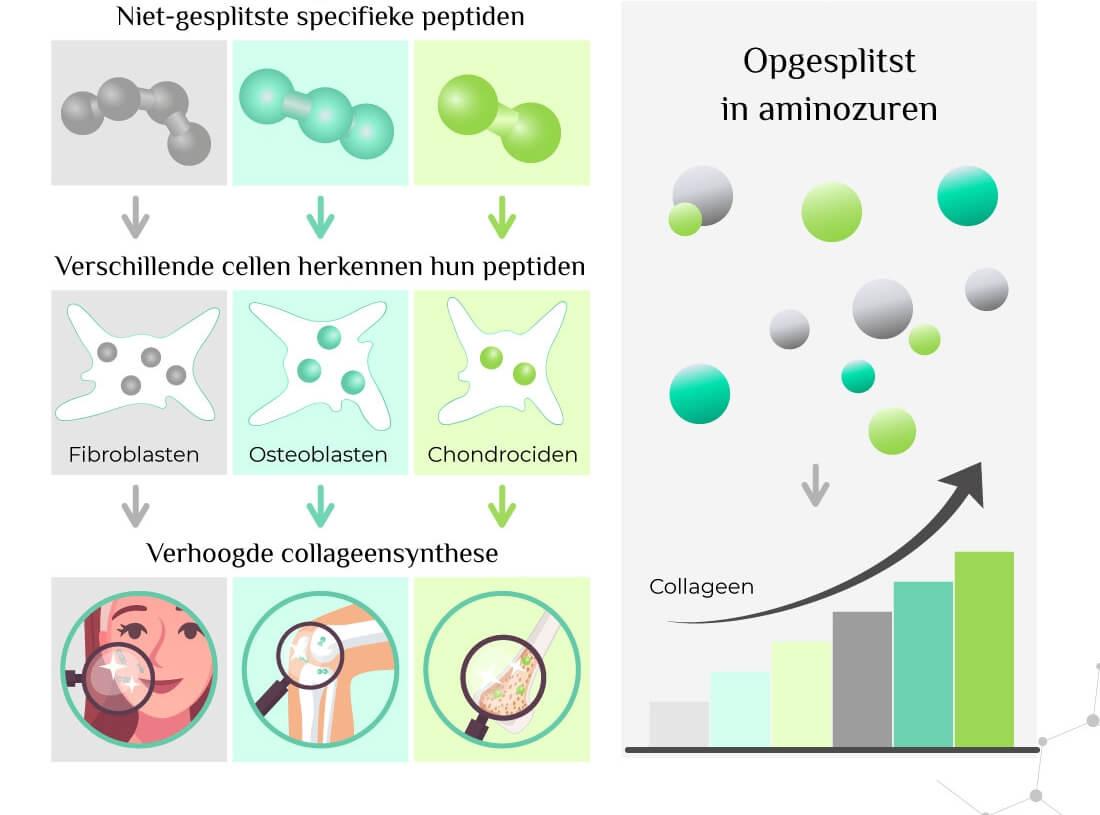 Collagen peptides used in Collavita products work simultaneously in two ways, helping our bodies form collagen. Collagen peptides are formed by hydrolysis of the collagen molecule into smaller fragments - bioactive peptides. Both their size and amino acid composition are very important.The bioactive peptides in Collavita products have a different peptide profile according to application and are hydrolyzed in a specific way to produce more collagen in a specific target organ (skin, joints, muscles, etc.).When cells specialized in our body detect degraded collagen in their environment, they increase collagen production to higher than normal levels to find a balance. This helps cartilage repair faster. In skin, for example, the target cells are fibroblasts. In bone, they are called osteoblasts.Some collagen peptides are completely broken down into amino acids in the stomach and are the building blocks for collagen production. The peptides that remain intact as they pass through the intestines (and are recognized as degraded collagen) are the ones that can stimulate cells to produce more collagen.
StomachBroken down by enzymes of the stomach and small intestine into tripeptides and amino acids
BowelThese separated substances are absorbed in the small intestine
BloodstreamThey enter the bloodstream and are transported through the body
Connective tissueCells synthesize collagen from amino acids, tripeptides stimulate cells to produce collagen
Collagen is a naturally occurring protein found in our bodies, and its many benefits are becoming increasingly popular. It can be used by a wide audience, from active athletes to the elderly, and offers many health benefits. With the wide variety of collagen available on the market today, it is important to know who can use it and what type of collagen is best for each user.
6 facts why doctors recommend Collavita
The products are perfectly digestible
98% of the substances in Collavita products are absorbed by the body
Composition developed by an in-house scientific team
Optimal collagen, vitamin and mineral content in each series
The results have been proven
Positive results of studies on collagen peptides used by Collavita
Collagen peptides with different effects
Collavita uses different collagen peptides for each product line
BIO product
Sugar-free, GMO-free, gluten-free, hypoallergenic, natural flavors only
A safe product
The product has no contraindications* and is European approved
*Consult a physician in case of individual intolerance, pregnancy, lactation
Why use Collavita products?
Fading skin
Cellulite
Fragile nails
Thin hair
Creaking and painful joints
Sports activities
Recoveringinjuries
Strengthening ligaments, tendons and cartilage
98% out of 100% people appreciated our supplements!Try them too!
If you buy collagen from Collavita, you will get positive changes in your life
Radiant and youthful skin
Collagen makes skin firmer, smoother and better hydrated
Confidence in yourself and your body
A change in your appearance will increase your self-esteem

Attractiveness to others
You shine and catch the eyes of men and women
Activity and mobility during the day
Being able to do all the things you have planned

Sports training with fun
Practice the sport you love without fear or pain