What can you expect from the collaboration?
Scientific studies prove the effect
Fast delivery and always in stock
Quick and open communication
Professional training for you and your employees
A unique product containing bioactive collagen with a special peptide profile
Customers come back satisfied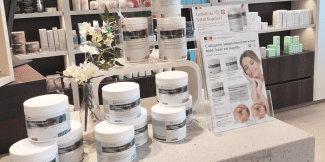 Customer price is better than the competition
The evolution of our customers with Collavita
The adoption curve has four major phases:
It takes the new user to incorporate this new action into his routine.
No clearly delineated preferred moments have yet been chosen. The place where the Collavita stands,the glass in which, the water, the temperature of the water, the quantities, the spoon . . . . All new actions that we want to help the new user with. We know that one can speak of an automaticity only after 32 times of repetition.
The Collavita support team provides a weekly "Tips" mailing to keep the user permanently motivated. Outline expectations and address any frustration.
001 | Tips, motivation, preparations
The most difficult phase. The consumer has been using Collavita for 3 - 4 weeks. Due to gradual improvement (surface / then depth), the changes and results are not comparable to how it was before. The deep, steady change. Our Collavita support team provides the guidance and motivaztion, explains what collagen does subcutaneously and what the consumer needs to watch for to see the changes.
002 | Motivation, the still invisible effect, signs of change
The first visible changes are a great reward for consumers. Soft and flexible skin, nails and hair that are more beautiful and natural.
Result of the "journey" / journey to a better Self with collagen.
003 | Victory Badge, Plateau, highest level of inclusion
TRUST Week 6 - 8 - INFINITY
The actions, the taste, have become completely routine and part of a healthy life. We provide tips on how to stick to the actions. The visible and palpable changes they have brought about themselves (through use of Collavita) are the focus. We keep working on the need for regularity, for better SELF and stronger future.
004 | Middle of your life, your better self, regularity, future
The result has been proven by research
Collavita attendance card
You can also leave your details and we will contact you.